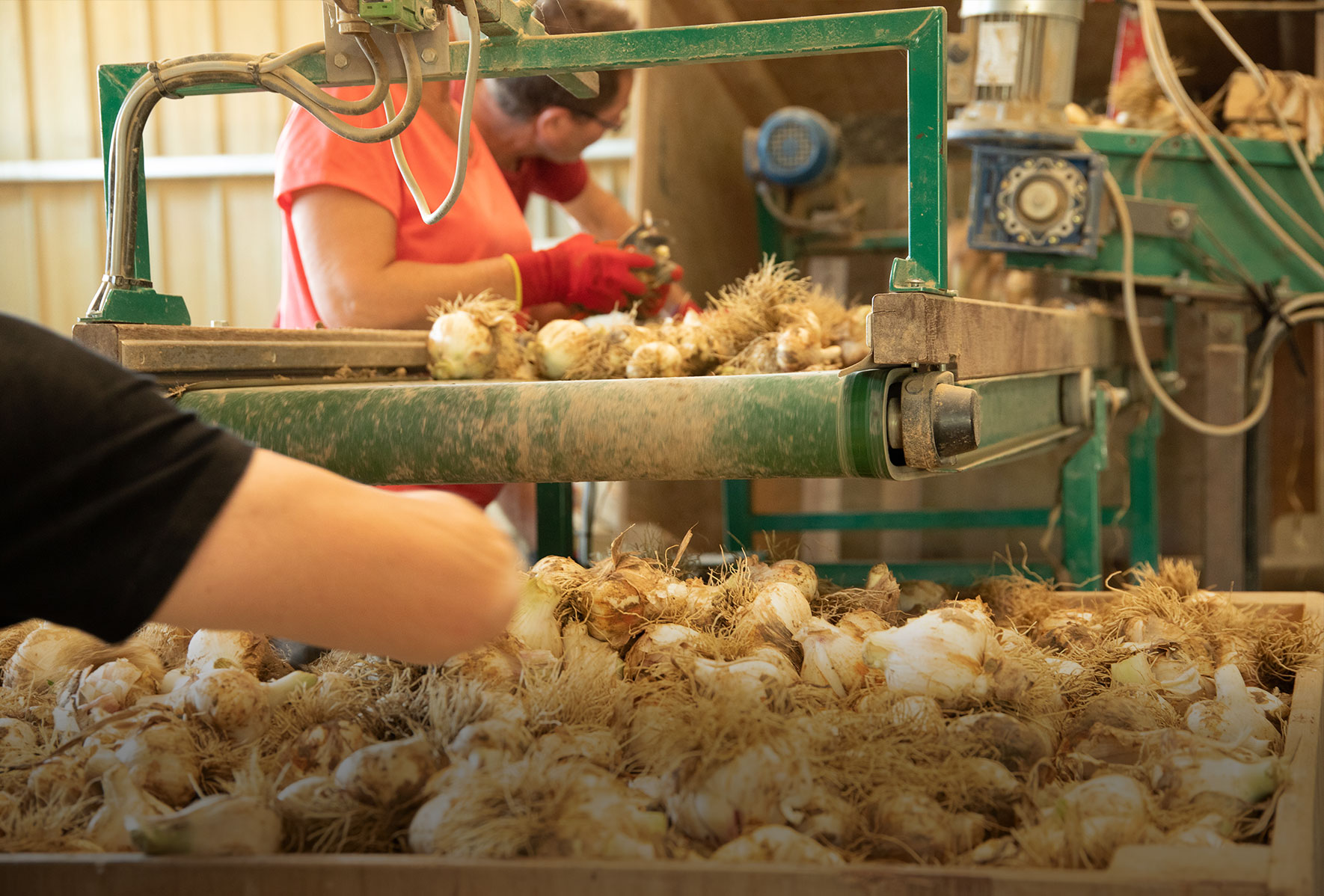 Who we are
We are farmers, seed growers and seed producers of garlic on a farm that has passed on generations of the same family. We are at the heart of the Drôme area, a labelled protected geographical indication for garlic production in France, known as « Ail de la Drôme ». We also trade consumption garlic, shallots and onions seeding plants.
Our history
EUROBULBE is the commercial continuation of a family farm incorporated under the name GAEC BBL.
GAEC BBL is originally a grouping of 4 family farms based in Eurre and Crest, in the Drôme area, including the BESSET family who is still in EUROBULBE through the family's third generation of garlic producers.
GAEC BBL has produced planting garlic for more than 40 years. The farm has contributed to the development of the certified garlic of Drôme.
In the 90's, we have gathered with a group of other garlic producers to create a garlic chain organized under a new grouping operating as a coop under the name GIE UNISEM AIL DROMOIS.
This pooling of resources has enabled to guarantee full quality of plants through the common endeavours of the gathered garlic producers and of the specialized technicians employed by the grouping.
In the 2000's, EUROBULBE was incorporated to become the commercial core of GAEC BBL for the sales of planting garlic but also then planting shallots and planting onions in order to satisfy our historical customers' needs.
In order to better match our clients' needs and thanks to a good network of historical business partners, we have developed a packaging service for small packaging.
Over the last ten years, demand in planting garlic has developed steadily in particular on the European market. EUROBUBLE has striven to offer to its European customers quality plants and quality services, full compliance with its commitments and tailored solutions and advice.
EUROBULBE has recently renewed subsequent to the retirement of one of its historical owners, Mr Jacques AUNAVE. EUROBULBE is looking forward to the future with a new generation, with a new young ownerMr. Julien MONIER, a local farmer born into a farmer family of several generations.
Our trade is changing and EUROBULBE, fully aware of present and future issues and stakes, has resolved to altenative techniques such as insect-proof nets, mechanical weeding, crop rotation to ensure a good nitrogen management. EUROBULBE has furthermore decided to leverage its 2.000 m² roof surface to produce photovoltaic energy.
The farmers
| | | |
| --- | --- | --- |
| | | |
| Philippe BESSET | Ludovic BESSET | Julien MONIER |
Key dates :
1966 : creation of GAEC BBL
1995 : creation of GIE UNISEM AIL DROMOIS
2002 : creation of EUROBULBE
2011 : Ludovic BESSET joined as owner
2020 : Julien MONIER joined as owner
2021 : retirement of Jacques AUNAVE